Get Certified (120hr TESOL)
(EPIK/SMOE/GEPIK)
 

In response to the Ministries demands that all new incoming foreign teachers obtain certification before accepting a candidates application package KorVia Consulting has teamed with the world's leading online TESOL certification course to give you the head's up on the competition, at a 25% discount reserved exclusively for KorVia and any public school teachers.


With a brand new specifically designed course for teachers planning on teaching abroad TEFL Academy's 120hr TEFL training course gets you the practical knowledge on a wide range of topics to best prepare you for teaching English in South Korea. The fully accredited course is precisely the training the Ministry of Education School Boards are looking for when considering a candidates application.

TESOL certificate is SMOE and GEPIK Native English Speaking Teacher's minimun qualification. A 120hr TESOL certification automatically qualify for level 2 salary as a EPIK teacher. (hakwon/institute teachers are NOT eligible for higher salary)

 
Accreditations
Accreditation is the first thing which comes to mind of a student who is eager to take up an International TESOL course. It is a most significant factor behind the recognition and validation of a TESOL course by a particular provider. It is a concern of every potential trainee and it is also a concern of TEFL Academy. Thus it has gone all the way to get possible support from leading bodies related to Teaching Globally.
Accreditations of TEFL Academy
Before discussing the accreditations of TEFL Academy it is extremely necessary to ponder upon the meaning of accreditation and its necessity. Etymologically, the word 'accreditations' mean 'to recognize an educational institution as maintaining standards that qualify the graduates for admission to higher or more specialized institutions or for professional practice.' Accreditation is given to the institution on the basis of their performance, validity and professionalism. Accreditations for the TESOL or TEFL courses are mainly given by institutions at the national level as there is no international body to accredit these courses.
A question can always arise that why is there a necessity of a TESOL certificate which is accredited. Accreditation is extremely important because it recognizes the significance of the course provider; proves its authenticity and validates the course curriculum.

The member bodies which TEFL Academy is supported with are given below:
Institutional Member of

IATEFL or International Association of Teachers of English as a Foreign Language: the main aim of this institute is to link develop and support English language professionals globally. This institute was established in the year 1967 and currently is proud to have more than 35,000 members in 100 different countries. By 2010, IATEFL aspires to reach a new level. Click here

CALICO this acronym stands for 'The Computer Assisted Language Instruction Consortium. This organization is associated with both academics and technical education or rather the combination of both. It is one of the premier institutes in the field of computer assisted teaching and education. CALICO has an experience of over twenty five years and over the years foreign language educators, web page designers, technicians, teachers and academicians have associated themselves with them.

---

Commercial Member of

Association for Language Learning is one of the premier associations who are involved in language training organization through out the world.

Corporate Member of

The International Association of Language Learning Technology is Established in 1965, IALLT is a professional organization whose members provide leadership in the development, integration, evaluation and management of instructional technology for the teaching and learning of language, literature and culture.

---

Member of

The International E-Learning Association (IELA) is dedicated to advancing the knowledge and practice of e-learning in the classroom and the workplace. With members hailing from every continent—and from the realms of business, industry, government, and academia—the IELA is a vibrant and diverse community of e-learning professionals, researchers, and students.

The American Council  on the Teaching of Foreign Languages (ACTFL) is the only national organization dedicated to the improvement and expansion of the teaching and learning of all languages at all levels of instruction. ACTFL is an individual membership organization of more than 9,000 foreign language educators and administrators from elementary through graduate education, as well as government and industry.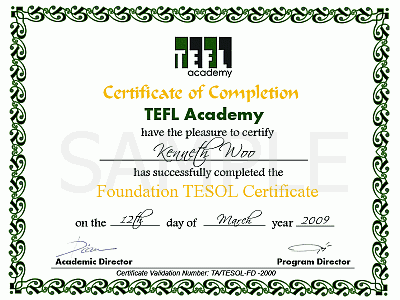 (Click here to enroll 120hrs TEFL Academy online TESOL PROGRAM)
Please APPLY if you are interested.
Please send an e-mail at onlineteflcertification@gmail.com for more information.